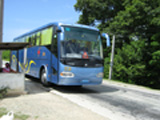 Schedule below: November 2006
Changes may occur at any time
Bus schedule of Viazul. All prices in CUC.
If you don't speak Spanish our hosts will gladly help you to call bus information. And if you travel to Trinidad your hosts in Casa Sola will be happy to pick you up from the bus station there.
Havana:
Avenida 26 y Zoologico, Nuevo Vedado, Ciudad de la Habana, Tel.(0053 7) 8815652, 8811413, 8811108, Fax (00537) 666092.

Santiago de Cuba:
Avenida Los Libertadores esq. Yaray, Tel. 022-28484

Varadero:
Calle 36 y Autopista, Tel. 045-614886

Trinidad:
Viro Guinart between Maceo y Gustavo Izquierdo # 224, Tel. 2404, 3737

New: Bus fares and schedule to and from Varadero (2013)

Casa directly on the beach in Varadero

Havana - Santiago de Cuba
Havana-Santiago
daily, Price: 55, duration 15:30 hrs.
Departs
Arrives
Havana-Santiago
09:30
15:00
22:00
01:40
06:50
11:50
STOPS:
Santa Clara
Arrives:
13:10; 18:45; 01:45 - Price: 18
Sancti Spiritus
15:10; 20:45; 03:05 - Price: 23
Ciego de Avila
16:25; 22:05; 04:35 - Price: 27
Camaguey
18:05; 23:55; 06:15 - Price: 33
Las Tunas
20:55; 02:05; 08:25 - Price: 39
Holguín
22:10; 03:20; 09:40 - Price: 44
Bayamo
23:30; 04:45; 09:40 - Price: 44
Santiago-Havana
09:00
15:15
22:00
01:40
07:20
12:10
STOPS:
in Bayamo
Arrives:
11:05: 17:20: 00:05 - Price: 7
Holguín
13:20; 18:40; 01:25 - Price: 7
Las Tunas
14:35; 21:00; 01:20 - Price: 12
Camaguey
16:35; 22:55; 03:30 - Price: 18
Ciego de Avila
18:30; 00:55; 05:30 - Price: 24
Sancti Spiritus
20:35; 02:15; 06:50 - Price: 28
Santa Clara
21:55; 03:35; 08:10 - Price: 33
Havana - Varadero
Havana-Varadero/Varadero-Havana
daily, Price: 10, duration 3 hrs.
Departs
Arrives
Havana-Varadero
08:00
11:05
12:00
15:00
18:00
21:05
STOPS: in Matanzas, Arrives 2 hrs. 10 Min. nach Departs, Price: 7
Varadero-Havana
08:00
10:50
11:40
14:35
18:00
20:55
STOPS: Matanzas; Arrives 50 Min. nach Departs, Price: 6
Havana - Playas del Este
Havana-Playas del Este / Playas del Este-Havana, daily, Price: 4, Dauer 1.20 hrs.
Departs
Arrives
Havana-Playas d. Este
08:40
10:00
14:20
15:40
Playas d. Este-Havana
10:30
11:40
16:40
17:50
Havana - Vinales
Havana-Vinales/Vinales-Havana
daily, Price: 12, duration 3.15 hrs.
Departs
Arrives
Havana-Vinales
09:00
12:15
14:00
17:15
STOPS Pinar del Río
Arrives 11:25; 16:25 - Price: 11
Vinales-Havana
08:00
11:15
14:00
17:15
STOPS Pinar del Río
Arrives 08:45; 14:45 - Price: 6
Havana - Holguín
Havana-Holgu�n/Holgu�n-Havana
daily, Price: 21, duration 10.40 hrs.
Departs
Arrives
Havana-Holguín
20:30
07:05
STOPS:
Sancti Spíritus, Arrives 01:00, Price: 12
Ciego de Avila, Arrives 02:10, Price: 14
Camaguey, Arrives 03:55, Price: 15
Las Tunas, Arrives 05:55, Price: 16
Departs
Arrives
Holguín-Havana
21:00
07:25
STOPS:
Las Tunas, Arrives 22:10, Price: 16
Camaguey, Arrives 00:10, Price: 15
Ciego de Avila, Arrives 01:45, Price: 14
Sancti Spíritus, Arrives 03:00, Price: 12

Varadero - Santiago de Cuba
Varadero-Santiago/Santiago-Varadero
daily, Price: 52, duration 16.10 hrs.
Departs
Arrives
Varadero-Santiago
20:30
12:40
STOPS:
Cárdenas, Arrives 21:15
Colón, Arrives 22:30
Santa Clara, Arrives 00:55
Sancti Spíritus, Arrives 02:30
Ciego de Avila, Arrives 03:45
Camaguey, Arrives 05:50
Las Tunas, Arrives 07:50
Holguín, Arrives 09:05
Bayamo, Arrives 10:30
Santiago-Varadero
20:30
11:30
STOPS:
Bayamo, Arrives 22:35, Price: 7
Holguín, Arrives 23:55, Price: 11
Las Tunas, Arrives 01:10, Price: 12
Camaguey, Arrives 03:05, Price: 19
Ciego de Avila, Arrives 05:05, Price: 25
Sancti Spíritus, Arrives 06:20, Price: 30
Santa Clara, Arrives 08:00, Price: 35
Colón, Arrives 10:00
Cárdenas, Arrives 11:10
Santiago - Baracoa
Santiago-Baracoa/Baracoa-Santiago
daily, Price: 16, duration 4.45 hrs.
Departs
Arrives
Santiago-Baracoa
07:45
12:35
STOPS Guantánamo, Arrives 09:25
Price: 6
Baracoa-Santiago
14:15
19:05
STOPS Guantánamo, Arrives 17:20
Price: 10
Havana - Trinidad
Havana-Trinidad/Trinidad-Havana
daily, Price: 27, duration 5.35 hrs.
Departs
Arrives
Havana-Trinidad
08:15
13:40
13:00
18:30
STOPS: Entronque de Jag�ey; Arrives 2 Std nach Departs; Price:12
STOPS: in Cienfuegos; Arrives 4 Std 10 nach Departs; Price:21
Trinidad-Havana
07:45
13:10
15:15
20:15
STOPS: Cienfuegos, Arrives 1 hrs. 35 nach Departs; Price: 6
STOPS: Entronque de Jag�ey; Arrives 3 hrs. 20 nach Departs, Price:16
Trinidad - Santiago de Cuba
Trinidad-Santiago/Santiago-Trinidad
daily, Price: 35, duration 12 hrs.
Departs
Arrives
Trinidad-Santiago
08:00
20:15
STOPS:
Sancti Spíritus, Arrives 09:25
Price: 6
Ciego de Avila, Arrives 10:40, Price: 9
Camaguey, Arrives 13:20, Price: 16
Las Tunas, Arrives 15:30, Price: 23
Holguín, Arrives 16:45, Price: 28
Bayamo, Arrives 18:05, Price: 32
Santiago-Trinidad
19:30
07:00
STOPS:
Bayamo, Arrives 21:35, Price: 7
Holguín, Arrives 22:55, Price: 11
Las Tunas, Arrives 00:10, Price: 13
Camaguey, Arrives 02:10, Price: 19
Ciego de Avila, Arrives 04:10, Price: 25
Sancti Spíritus, Arrives 05:30, Price: 30
Havana - Guardalavaca
Havana-Guardalavaca /
Guardalavaca-Havana
daily, Price: 27, duration 11.40 hrs.
Departs
Arrives
Havana-Guardalavaca
20:30
08:20
STOPS:
Sancti Spíritus, Arrives 01:05, Price: 13
Ciego de Avila, Arrives 02:15, Price: 14
Camaguey, Arrives 04:00, Price: 15
Las Tunas, Arrives 05:55, Price: 16
Holguín, Arrives 07:10, Price: 21
Guardalavaca-Havana
19:50
07:25
STOPS:
Holguín, Arrives 20:50, Price: 6
Las Tunas, Arrives 22:10, Price: 8
Camaguey, Arrives 00:05, Price: 9
Ciego de Avila, Arrives 01:45, Price: 14
Sancti Spíritus, Arrives 03:00, Price: 15