Hola
Cuba
™
From 2001

Casa Prisca
Casa Manuel
Casa Ana
Casa Marinita
On Malecón

Our flagship

Casa Dulce
Apartment Alejandro
Casa Yolanda
Casa La Mamuchy
Martha, up to 8 guests
Room on the beach
Hotel on the beach
Casa Cuqui
Casa Yosniel
Room + Airport pickup
Casa Avenida
Trinidad
Viñales Francisco
Viñales Esther
Cienfuegos
Matanzas I
Matanzas II
Bay of Pigs - DIVING
Holguin
Santiago de Cuba
Santiago de Cuba +
Guantanamo
Baracoa
• Prices & Payments
• Your Guarantee
• Share a Taxi in Varadero
• Share a Taxi in Havana
• Rent a Car
• Sailing und Fishing
• Cruise Cuba-Jamaica
• Dance Classes
• Safety in Cuba
• Hurricanes [ciclones]
• Bus Schedule Viazul
• Paladar (Restaurant)
• Humor
• F.A.Q. & Contact
Dominican Republic
Beach Hotel Boca Chica
Cheaper then Cuba
Ocean View Apartment
Cabarete - Surf Paradise
Beachfront. Rent or buy
Apartment in Boca Chica
More expensive then Cuba
Ocean View
Resort Juan Dolio
Even more expensive
Luxury in Cabarete
HolaCuba Add to your bookmarks: Ctrl-D
Casa Particular: Home stay or Bed & Breakfast in Cuba
Prices in USD

New from Nov. 01: you can stay 90 days on the tourist card
House on the beach. Ocean view.
Is this what you are looking for?

Guanabo: Casa Rosa
Beachfront
Expensive! The best casa in Guanabo.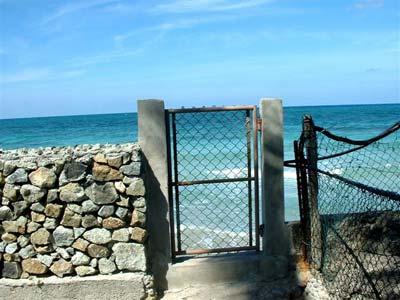 Can't get any closer to the sea!
You can spend your Cuba vacation here
Apartment with Bar an terrace

Sea view doesn't have to be expensive
View from your terrace
From
250 CUC
Week

(miminum stay: 7 days)

To
350 CUC
Week
Wouldn't you like to wake up in the morning with the sound of sea waves?
Get up in the morning and go swimming. You don't have to put the shoes on. It's just a few steps.

Sandy beach and clean water. It's what people expect from a vacation in Cuba.

A double room with terrace directly at the sea shore

Own bath (baño privado), you are the only user

Kitchen with refrigerator for you to cook.

You don't cook? Breakfast and other meals possible on a day-to-day basis.

Safe, quiet beach area

Farmers' market (agromercado) with meat, fruit, vegetables just 200 meters from the house

Air Conditioning A/C

TV-set im Apartment

Telephone use (within Cuba)

Price: 250 - 350 CUC (pesos cubanos convertibles) per week.
Price depends on season and current market conditions.
Minimum stay 7 days. Maximum 2 adult guests per stay (+child OK)
VIDEO From living room to terrace

Relaxing sea view from terrace

Our 'Home Beach'. Don't forget the sun protection!

Our guests swimm here

Welcome to our casa, dear guest

For your hassle-free cuba vacation

Your terrace to have a sun bath

Own entry to the apartment up the stairs

(miminum stay: 7 days)

VIDEO Independent entry to the apartment

The double room

Invite your own guests for a Cuba Libre! You're on vacation

Family room, extra bed for a child available

Extra bed (request extra)

Bathroom for your exclusive use

Living room. You'll appreciate the shadow

(miminum stay: 7 days)

Patio surrounded by fence where you can park your car



Travel pictures from the vicinity: Guanabo und Boca Ciega
Our Visitors write

Please write, too

At the beginning of March 2012 we were guests in this wonderful casa and were absolutely thrilled. It was not only a beautiful home alone, in which we have felt very comfortable. A great location right on the sea, a view like in a picture book, the relative proximity to the town center. We were overwhelmed by the hospitality and especially the warmth of our hosts Rainaldo and Rosa, and especially Iriana, which offered us an in-depth overwiew of Cuban cuisine. We have talked a lot and got quite an insight into Cuban life. All have looked after us - no matter what it was.
We have spent a great great holiday in theis lovely Cuba and its people. We were happy to be here and can highly recommend this apartment to everyone. Many thanks to you, Rainaldo, Pink, Iriana and Enzo!
[Ralf und Ute aus Alemania (March 2012)]

Two German Tourists write their evaluation in Spanish.
Anna and Olle, Germany (February 2012)

Das ist Urlaub: Auf der Terrasse unter Palmen sitzen, gemütlich frühstücken und zwei Meter vor einem rauscht das Meer. Tatsächlich eine traumhafte Casa, auf die Renardo zu Recht stolz ist. Im Ort findet man schnell Supermarkt, Bank und Restaurants. Da man mitten unter Kubanern lebt, hört man hin und wieder auch die Nachbarn, wenn sie feiern. Anders als viele in Deutschland, halten sie sich allerdings an die Ruhezeiten. Ein weiterer Pluspunkt: Die elegante Einrichtung aus Holz und Flechtsesseln. Und an der eigenen Bar hätte man gern selbst eine Party gefeiert..

[Dominik, Hamburg, Januar 2012]

wir besuchten vom 30. 01. bis 07.02.11 die casa rosa in guanabo und können die casa absolut weiterempfehlen renardo ist ein sehr guter gastgeber wir kommen gern wieder.

[Ulli und Heidi, Bodensee, Februar 2011]

Wir hatten eine wirklich schöne Zeit in Guanabo im Casa Rosa und zehren noch von den Erinnerungen. Die Lage des Hauses - der Strand!, die Sicht! - ist wirklich optimal und die Gastgeber waren sehr um unser Wohl bemüht. Wir haben auch gerne das Angebot des Bekochens in Anspruch genommen. Der Fisch war gigantisch! Die Selbstversorgung ist ja ein wenig schwierig, bis man sich mit den Geheimtipps auskennt, aber auf diese Weise konnten wir einen guten Einblick in das normale Leben der Kubaner gewinnen. Auch das Busfahren hat prima geklappt, so dass wir viele Ausflüge nach Havanna unternehmen konnten.

Einziger Kritikpunkt wäre die Lautstärke der Nachbarn. Direkt nebendran in der Wohnung ein deutscher Kollege der ständig Party machte und im Nachbarhaus italienische Gigolos, die sich Mädchen mitgebracht hatten und die ganze Gegend beschallt haben. Ohne meine Ohrstöpsel wäre ich verloren gewesen.

[Dieter und Angelika, Bodensee, November 2010]

[Stefanie, Deutschland, Januar 2009]

Ich habe über Ihre Seite die Casa Rosa in Guanabo vom 14.1.-21.1. gebucht. Hier hat auch alles geklappt und ich wurde freundlich empfangen. Das Apartment war sehr schön und die Lage einfach nur himmlisch. Die Famile, allen voran Renardo, hat sich sehr gut um alles gekümmert.
[Jörg, Deutschland, Januar 2008]
The Taxi to Casa Rosa:
from the Havana Airport about 30-40 CUC.
from Varadero Airport about 60 CUC.
CUC: peso cubano convertible. Do not bring US Dollars, exchange rate 10% worse then other currencies.
© 2001-2023 HolaCuba
Cuba Travel - Homestay on Vacation in Cuba - Casa Particular
Search HolaCuba
Weather
Time in Cuba
Feedback
Русский
Polski
Do you own a hotel?
Excellent reservations software
Taxi in Havana, phone: 8 555 555
Emergency numbers in Cuba:
Ambulance: 104
Fire: 105
Police: 106
Drug unit: 103